Home Apparel Online
Dekentmerchandise is the one of the best leading exporters of Home Apparels. We provide home apparel online which includes Bedsheet, Cushion cover, Blanket, etc. We are the manufacturer of all these items. We have available the different-different variants of all these items for bedsheets, seat cushion covers and blankets, etc. We always want to provide our customers with a good quality product so that they do not have any complaints if they use our product.
Home Apparel is used for daily use in every house and is a requirement of every household. Many types of clothing fabric are included in home apparels for daily use. Our first priority is to provide the best quality genuine products to our clients at very decent prices because we want to reach our products door to door in India. We also want to expand our business to the whole world. Dekenmerchandise is the exporter of all these items. In India, many exporters are surviving in India but we are the best home apparels supplier in India.
Our main headquarter is located in New Delhi, India and our second branch is located in Rajasthan. Our Company is growing day by day all over the world. Our Satisfaction is in Customer's Satisfaction because if they like our products they will buy it again according to their past experience.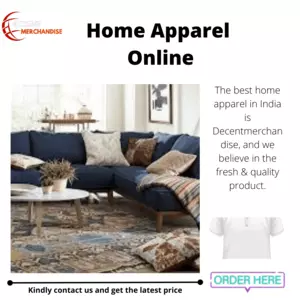 Related Product
Browse the huge variety of our products