Wholesale Indian grocery suppliers
We are wholesale indian grocery suppliers, and deal in grocery items of regular use like coconut sugar, coconut powder, cashew nuts, husked coconut, rice, wheat flour, Assam tea, etc. Decent-Merchandise is a Grocery Items manufacturer and exporter that supplies grocery items all over India and also all over the world. We listed items according to the grocery items catalogues. All the grocery products we are dealing in are completely organic and of very good quality. Our business is growing day by day and our clients completely trust us because of our customer support service.
Grocery products are used everywhere in the whole world, whether it is any restaurant or home. Without it, our cooking is impossible because for cooking any food grocery items are necessary. We are the grocery items Retailers and provide the best service. Everywhere, the demand for grocery items will never stop. The demand for rice and tea is high in India because it is made in every house in India. Deken-Merchandise grocery items traders are the best wholesalers in India.
We care about the health of the customer also, so we supply only better quality products. If our customer is satisfied with us we are also satisfied. The Headquarter of Decent-Merchandise is located in Delhi-NCR and our second branch is located in Udaipur, Rajasthan. We always take a stand for our customers because the customer is the king of any business without the customer there is no business run.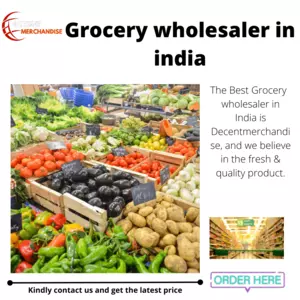 Related Product
Browse the huge variety of our products