Readymade Garments trader in India
We are one of the largest readymade garments traders in India and deal in various types of garments, and being a readymade garments supplier online we use durable, Dynamic, High-Quality Materials and maintain their quality as well as a focus on the modern design, colors, prints, and the customer requirements to make them feel happy and satisfied for their requirement. Being a Readymade Garments supplier in India we are capable to provide all types of garments such as Men's wear, Women's wear, Corporate Uniform, lab Coat, Surgical Gown, Sweatshirt, School Uniform, and Girls' Knitted Panama, Jackets, and Boys Panama, etc.
In Asia, India, Bangladesh, Vietnam, and China are the top four countries which are the largest garments exporter and manufacturer in the world. In India Dekentmerchandise is the best Readymade garments trader in india and exports to many countries. We want to spread our business all over the world and want to provide the best services to our clients. Our business is also increasing day by day. You can buy clothes of your choice without any problem because we have a wide range of options for Readymade Garments.
We have too many options, and Dekentmerchandise is a readymade garments trader in India. We Manufacture clothes for all types of people like children, Doctors, men, women, and office workers. Our priority is to provide the best quality products and services to our clients because, in our vision, customer satisfaction is the most critical factor in any business. Our price is also not high; we provide products at very reasonable prices with the best quality. We are the Readymade Garments wholesalers in Delhi and are always available for our clients to serve better products and services.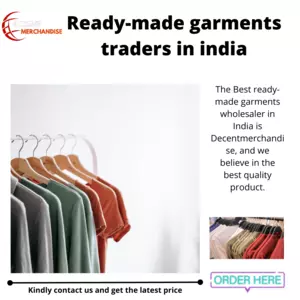 Related Product
Browse the huge variety of our products