Pulses Supplier in India
Dekentmerchandise is an exporter and we provide excellent quality of Pulses like Toor Dal, Urad Dal, Rajma Beans Yellow Peas, Black Beans, Pinto Bean, etc. We Pulses Manufacturers in India and export to all states of India. We also export our pulses out of the domestic boundaries. We never compromise with the quality and we have many options of a variety of pulses. Dekentmerchandise have both the options of organic and non organics pulses. Organic means it's 100% natural without any use of chemicals and it is pure pulses. Non-organic means that products containing chemicals have been used in it. You can choose the option as per your need.
India is the largest Pulses exporter and supplies pulses all over the world. 25% of global pulses are produced in India and in India, Madhya Pradesh is the state which produces the large quantity of pulses. India also contributes a lot in agriculture and exports too many various items to the whole world. China is also the world's biggest country in the field of agriculture and after that India comes.
Pulses are eaten in every household in India because without pulse Indian food is incomplete. So, keeping this in view we are the yellow pulses exporters, rajma beans, urad dal, yellow peas, black beans, and many more. The quality of the product matters a lot for the Dekentmerchandise because if the quality is good then the consumer will like it and he will be satisfied with our product and will also choose our product next time.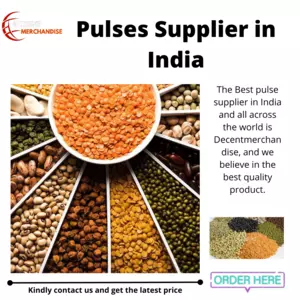 Related Product
Browse the huge variety of our products