Spices supplier in India
We tend to offer our customers supreme quality spice!
The Best supplier and spices supplier in India is Dekentmerchandise. We have a wide range of spices such as red chilli powder, coriander seeds, and turmeric powder. We are known as the reputed spices supplier who deals in authentic quality-driven spices that are not limited to Delhi only, our spices delivery is gaining massive popularity in all states across the country. We tend to source our products from highly certified farms and vendors. which further reaches our customers in a hassle-free manner. Coupled with we integrate delivering aromatic and fresh spices to your location. Hygienically packed, with no artificial colours & flavours added and assurance of most minor processed spices are packed and delivered to your location.
We are the best spices supplier in India known for supplying fresh and authentic spices!
Dekentmerchandise ensures delivering supreme quality spices. Today's generation is more concerned and health conscious. And spices are an integral ingredient used widely in almost every Indian kitchen regularly. Hence, our mission is to promote health by offering our customers authentic and fresh spices that are retained and packed with all the essential nutrients. simultaneously contain properties such as Anti-carcinogenic, antioxidant, anticancer, anti-inflammatory, cognitive, and mood-influencing properties which help in fighting against chronic diseases in all-natural ways. Our vision is to attain a notable presence among all the competitors by selling freshly and nutrients packed spices.
One of the Top Spices Supplier in Delhi, India!
We are one of the largest suppliers of all spices in India, both wholesale and retail. You can contact us at Dekentmerchandise. We can offer such a wide range of wonderful spices. Be it in all sorts of dishes. The amazing taste, texture, organic colour and natural smell that define her culinary style come from the spices he uses. Dekentmerchandise is known for its quality Indian spices and we know the value of quality spices in the daily life and health of consumers.
Crossing all the productís set standards make us a Ė leading spices exporter in India!
Dekentmerchandise believes in widening its scope in the market. As their integrity towards their products reflects everything that a client requires. And our testimonials speak about our product's nobility. We ensure to maintain the standards set as per international parameters, which make us stand in the international market as well, and this makes Dekentmerchandise the best spices exporter in India. Fast product delivery and convenient & transparent payment method.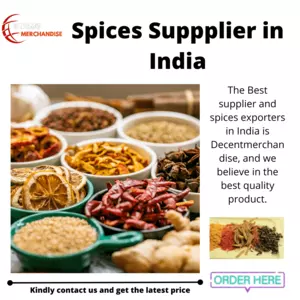 Related Product
Browse the huge variety of our products